Silk Comforter (Cotton Covering)
$119.00 – $1,359.00
Shell: 100% Combed Cotton
Fill: 100% Silk
Description
Silk is a porous animal protein, also the best protein known today. It contains silk oligosaccharide amino acids and has many functions such as moisture absorption, moisture release, moisturizing and antibacterial capabilities. It also activates collagen. Prevents skin aging and reduces fine lines.
Silk quilt has the following characteristics:
(1) Natural long fiber. Light and soft, warm and comfortable
(2) Silk is a porous protein fiber with the best hygroscopicity, moisture release, moisture retention, and warmth retention. Because of its breathability, Canon can keep the quilt at a constant temperature and not stuffy, and keep the quilt dry and not damp. The reputation of warm in winter and cool in summer.
(3) Silk is a good natural material for skincare and skin beautification. People with allergies can use silk quilt to improve.
(4) Sleeping in a very comfortable natural protein bed every night can promote sleep. It makes people sleep deep and healthy.
PRODUCT WEIGHT: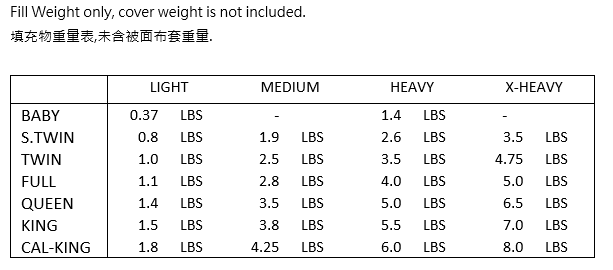 *The pictures are for reference only, and the products are based on actual products
Additional information
| | |
| --- | --- |
| Size | Baby 48"x54" (121x137cm), S.TWIN 54"x78" (137x198cm), TWIN 68"x86" (173x218cm), FULL 72"x84" (183x213cm), QUEEN 84"x92" (213x234cm), QUEEN III 90"X92" (229x234cm), KING 102"x86" (259x218cm), CAL-KING 102"x96" (259x244cm) |
| Weight | X-LIGHT, LIGHT, MEDIUM, HEAVY, X-HEAVY |